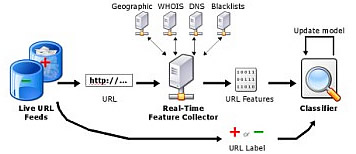 URL Reputation
Donated on 10/14/2009
Anonymized 120-day subset of the ICML-09 URL data containing 2.4 million examples and 3.2 million features.
Dataset Characteristics
Multivariate, Time-Series
Subject Area
Computer Science
Associated Tasks
Classification
Feature Type
Integer, Real
Additional Information
Uncompressing the archive url_svmlight.tar.gz will yield a directory url_svmlight/ containing the following files: * FeatureTypes --- A text file list of feature indices that correspond to real-valued features. * DayX.svm (where X is an integer from 0 to 120) --- The data for day X in SVM-light format. A label of +1 corresponds to a malicious URL and -1 corresponds to a benign URL.
Attributes are anonymized, but correspond to lexical and host-based features gathered for each URL.
Download
Install the ucimlrepo package
pip install ucimlrepo
Import the dataset into your code
from ucimlrepo import fetch_ucirepo 
  
# fetch dataset 
url_reputation = fetch_ucirepo(id=187) 
  
# data (as pandas dataframes) 
X = url_reputation.data.features 
y = url_reputation.data.targets 
  
# metadata 
print(url_reputation.metadata) 
  
# variable information 
print(url_reputation.variables) 

View the full documentation
Ma,Justin, Saul,Lawrence, Savage,Stefan, and Voelker,Geoffrey. (2009). URL Reputation. UCI Machine Learning Repository. https://doi.org/10.24432/C5H89Q.
@misc{misc_url_reputation_187,
  author       = {Ma,Justin, Saul,Lawrence, Savage,Stefan, and Voelker,Geoffrey},
  title        = {{URL Reputation}},
  year         = {2009},
  howpublished = {UCI Machine Learning Repository},
  note         = {{DOI}: https://doi.org/10.24432/C5H89Q}
}